Enhance your CCleaner installation with extra definitions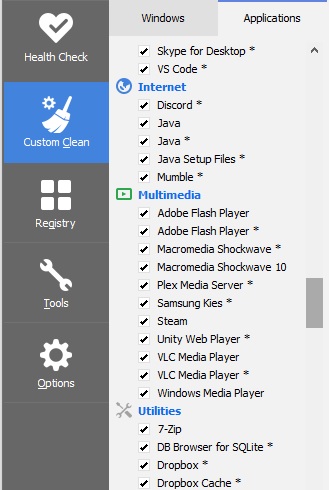 CCleaner is a great tool for cleaning Windows, removing junk and saving disk space. However it only comes with a small number of definitions, basically predefined locations where it looks for files to delete or other cleanup operations.
A great project named Winapp2 attempts to enhance these definitions with additional ones added by the community. It is only a text file that needs to be copied in the same location as ccleaner.exe. Easy to install but very powerful, greatly improving the usability of CCleaner.
More discussions (300+ pages of them!) about this tool can be found on the forum page.
Winapp2 installation
Here is my setup, including installation steps for CCleaner and Winapp2:
That's all. Now run ccleaner and enjoy its enhanced capabilities.
There is also a plugin called CCEnhancer but I don't recommended it since it's essentially just a wrapper around Winapp2.
You can also add your own entries to be cleaned, it's all detailed in the docs.
Winapp3
The project repository for Winapp2 also contains Winapp3.ini, a file with even more definitions but which may impact system stability. To install this file, you need to copy its contents at the end of Winapp2.ini.
After launching CCleaner you should now see the Dangerous... items in the Applications categories.

I personally installed it and did not have any issues with it, you just need to be careful when selecting the Dangerous items and read the associated warnings.
Enjoy and keep your computers clean!